Members of the Hungerford Lodge were just recovering from the loss of our Chaplain, Nigel Ludlow last month when the news came through of the loss of another member, Bert Harrison.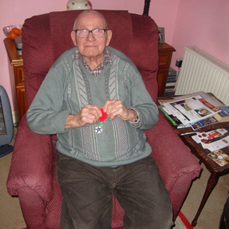 Brother Bertram Horace Leonard Harrison, Past Provincial Grand Standard Bearer or "Young Bert" as we referred to the 94 year old, was one of the nicest men you could ever wish to meet. Bert was always smiling, whatever life threw at him. Until recently he came to Lodge whenever one of the members could transport him and we were all overjoyed to see him.
A fanatical Chelsea supporter, he even managed to break his walking frame in his excitement when the Blues beat Arsenal. He also loved watching speedway, although more recently this was via satellite TV.
All of this sounds like almost anyone's father or grandfather. Whilst Bert was that to his family, he was also one of a dwindling number of people who took part in the key battles of the Second World War.
He was honoured as a Chevalier de la Légion d'Honneur (Knight of the Legion of Honour) by the French government, for his gallantry during the Second World War. He served as a medic in the Royal Navy and as a 20-year old took part in Operation Dragoon, the Allied invasion of Southern France on August 15th and 16th 1944. Originally code named Anvil, it was designed to complement Operation Sledgehammer, or what we now know as Operation Overlord (the Normandy landings). You can read more of Bert's story here.
Bert was initiated into the Hungerford Lodge on the 17th January 1978. In his forty year long Masonic career, Bert gave widely and freely of his time. Well into his eighties he was still serving as one of the official Examiners to the Lodge accounts. It is therefore perhaps surprising that he never served as Master of the Lodge. Bert was meek and humble and preferred life out of the spotlight. His contribution to the Lodge and Freemasonry in general meant that he was recognised by the Province, being one of a select few wearing a Provincial apron bearing rosettes.
Whilst the Lodge will miss Bert, he will now be reunited with his wife, Florence.
It broke our hearts to lose you – But you didn't go alone,
For part of us went with you – The day God called you home.